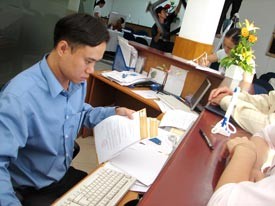 BVFMC managing Bao Viet's portfolio. (Photo: T.C)
The Bao Viet Finance – Insurance Group (Bao Viet), in Ha Noi, has officially introduced the Bao Viet Fund Management Company (BVFMC) and received the license to set up its securities investment fund (BVF1).
BVFMC will specialize in Bao Viet's portfolio management activities, setting up and managing investment funds, and providing investment services, said Mr. Truong Ngoc Lam – Chairman of Bao Viet.
BVFMC was established in early 2006 from Bao Viet Investment Center in order to create the third of its tripod functions of the group: life insurance, non-life insurance and financial investment.
BVF1 has the initial size of VND 500 billion, of which investing members include many big players on the Viet Nam's insurance market such as Bao Viet, Bao Minh, Bao Long, AIA.
Moreover, BVFMC is currently overseeing portfolios of about VND 10,000 billion for Bao Viet Life and Bao Viet Viet Nam.
Related Articles:
Life Insurance in Viet Nam
VF1 To Expand Chartered Capital To VND 500 Billion