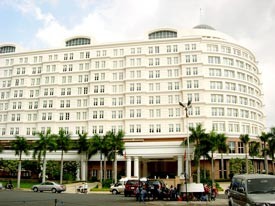 The Park Hyatt hotel, one of place to make the meetings. (Photo: T.C)
The Bank for Investment and Development of Viet Nam (BIDV) has been officially chosen to be the banking partner for 2006 APEC Senior Official Meetings in Viet Nam .
BIDV will provide, during the meetings from May 25 – June 2, mainly such services as currency exchange (US dollar, Singaporean dollar, Australian dollar, Japanese yen, Euro, and British pound), transactions by traveler cheque, AMEX, Visa, Citicorp, Master, Thomas Cook, and cashing Visa and MasterCard, said Tran Bac Ha, BIDV's director.
In order to provide the meetings the best banking services possible, BIDV has set up transaction booths at the site of the meetings and hotels where delegates stay.
Previously, in 2005, BIDV was also chosen to be banking service provider of ASEM 5 meetings.
Related Articles:
First day of APEC-2006 SOM II in Ho Chi Minh City: Heading Towards A Better Life