Negotiable lending rates in Vietnam have soared to as much as 18 percent per year, causing great anxiety for local businesses, especially small ones.
The State Bank of Vietnam's policy on applying negotiable interest rates for medium- and long-term loans states the aim of creating a fair credit environment for all businesses. However, many businesses said that in fact, they cannot afford the current lending rates.
 
High interest, yet hard to get loans
Due to rising input expenses, which are now much higher than in late 2009, many enterprises are trying to lower production costs by renovating technology and equipment to reduce energy and increase efficiency, said Cao Tien Vi, chairman of the HCMC Young Business People Association.
Tran Quoc Manh, deputy chairman of HCMC Handicrafts and Wood Industry Association and also general director of Saigon-Dak Lak Company (Sadaco), said wood processing has now entered its peak business period and the industry is receiving numerous orders. "To fill these orders, companies rely mainly on bank loans," said Mr. Manh.
"However, the problem is that the sector currently gains a profit rate of only around 10 percent; so how can they afford loans at negotiable interest rates of as much as 18 percent per year?" he asked.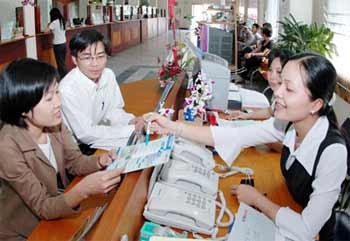 Customers at VIBank in Hanoi. Many businesses say they cannot afford negotiable lending rates that have increased to as much as 18 percent. (Photo: SGGP)
Meanwhile, businesses are facing increased production costs as the price of packaging, paint and materials has surged by 15-20 percent, Mr. Manh added.
Nguyen Duc Tien, director of Tay Nguyen Coffee Investment and Import-Export JSC, said capital flow in the market has showed signs of slowdown. "In previous years, our company could get bank loans of as much as VND500 billion (US$26.3 million), but presently, we can get only VND100 billion total from banks," he said.
"Banks say they are facing difficulties in capital mobilization," Mr. Tien added.
Without enough capital, many businesses have no other choice but to sell products at lower prices in hopes of seeing a faster return to repay bank loans, he said.
Experts forecast that this year the country could see $1 billion in cashew exports for the first time. To realize this, however, exporters need around VND14.82 trillion ($780 million) to carry out their export strategies, Mr. Tien said.
"Given the current situation, the mobilization of so much capital is not easy at all," he said.
Lending rate suggested at 13-14 percent
Many enterprises said their sales this year were initially predicted to climb by 5-7 percent, but now, there may be no growth at all for some due to increased input costs.
Several businesses have also seen their investment plans come to a standstill, as they cannot afford the high lending rates, said Mr. Vi. "According to calculations by some experts, only when a company gains a profit rate of 25 percent per year can it survive such high interest rates."
Mr. Manh pointed out that "loan interest is allowed to be negotiable but requirements for businesses to access bank loans have yet to be loosened. As a result, many companies, especially small ones, have not been able to get loans since they have no assets to use as mortgages, although they agree to borrow money at high interest."
Negotiable interest rates should be a maximum of 13-14 percent per year, most businesses have suggested. At this rate, companies can restrain production costs, make their business profitable, and maintain the competitiveness of their products on the market, they said.
The high interest rates have also recently undermined the competitiveness of the country's exports, they added.
In related news, on March 25 the State Bank of Vietnam's Governor Nguyen Van Giau issued a decision to maintain the prime rate in VND at 8 percent per year, effective from April 1.
As such, the prime rate has been kept unchanged for four consecutive months.