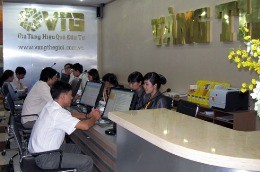 Investors trade gold at a gold exchange.
The State Bank of Vietnam ordered commercial banks January 11 to stop lending to investors in gold trading floors and recall loans given to them.
It has instructed its branches in cities and provinces to monitor implementation of the order and penalize banks not following the instruction.
The central bank has ordered the closure of gold exchanges by March 30 this year.