The State Bank of Vietnam decided to cut interest rates to 8.5 percent Friday, a 1.5 percent cut, which comes into effect Monday.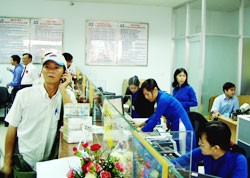 Transaction cunducted at an ACB branch in Ho Chi Minh City.
The decision means the Vietnamese dong lending interest rate of commercial banks was cut to 12.75 percent from 15 percent.
The central bank reduced the overnight interbank and refinancing interest rate to 9.5 percent and the discount interest rate to 7.5 percent.
It also cut the interest rate it pays commercial banks for their compulsory reserves to 8.5 percent.
Treasury bonds saw the biggest drop, from 13 percent to 4.5 percent.
Reducing the official rate from a high of 14 percent, the State Bank of Vietnam has cut the prime interest rate five times in recent months to combat an economic slowdown driven by the global financial crisis.