The State Bank of Vietnam has cut the prime interest rate to 7 percent with effect from February 1.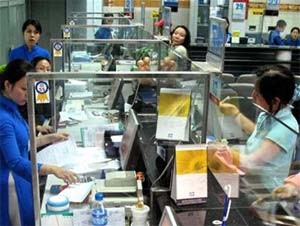 A branch of the Asia Commercial Bank (ACB) in HCM City. The State Bank of Vietnam has cut interest rates, with the prime rate falling to 7 percent. (Photo: Tuoi Tre)
The 1.5 percent rate cut means credit institutions' maximum lending rate, which is capped at half the prime rate again, will fall to 10.5 percent.
 
Nguyen Van Giau, the SBV governor, said to the downward revision is part of the Government's efforts to ward off a recession, support production and trade, and create jobs.
It would boost liquidity, and, with it, investment and consumer spending, he said.
The SBV has been continuously slashing the rate after pushing it up to 14 percent in the middle of 2008 to combat runaway inflation.
Other important rates are also set to be lowered – like the recapitalization interest rate (from 9.5 percent to 8 percent), rediscount rate (from 7.5 percent to 6 percent), and overnight and clearing rates (from 9.5 percent to 8 percent).
The central bank has, for the first time, allowed lenders to negotiate rates on consumer loans and credit cards.