The Central Bank will continue to adjust monetary and financial policies to make them appropriate to reality and more beneficial for business, said its governor Nguyen Van Giau.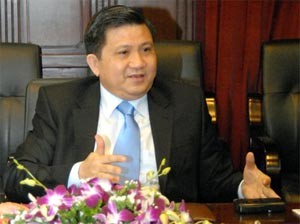 Nguyen Van Giau, the Central Bank's governor
At a meeting with Ho Chi Minh City's young entrepreneurs on March 22, he said the inflation rate will be controlled at a suitable level and the dollar/dong exchange rate will be flexibly adjusted to ensure benefits for both exports and imports.
 
Mr. Giau said to take the initiative in preventing recession, the Government adopted stimulus measures, such as investing VND4 trillion ($229 million) in construction of rural roads, irrigation and canals, investment in vocational schools to improve workers' skills, tax cuts and increased list of exemptions, and a subsidized loan scheme.
 
Businesses, organizations and individuals have the right to enjoy subsidized loans, so that if any banks make difficulties for eligible customers, the Central Bank will penalize them.
 
The entrepreneurs suggested that the bank needs to define conditions clearly and supplement beneficiaries of the scheme, especially those who participate in the infrastructure construction.
 
They also asked the Government to review its policies to avoid complications with international laws, which the export sector might face.
 
The bank should simplify transaction procedures with financial companies so that businesses can upgrade equipment and technology, which help improve competitiveness, they said.