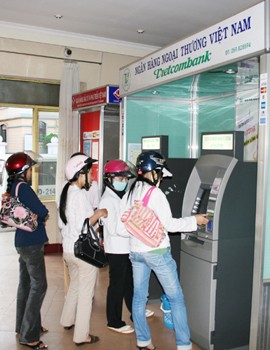 Customers withdraw money at ATM
The State Bank of Vietnam has rejected the Vietnam Bank Card Association's proposal to charge ATM transaction fees, saying the infrastructure and quality of service are not up to scratch.
The proposal came under fire from low-income people and others who said banks benefit from the minimum balance card holders have to maintain in their accounts.
The other major objection has been about the quality of service: ATMs run out of money during weekends and holidays, the network breaks down often, and customers find their accounts wrongfully debited.
Experts want banks to make the service more professional and promote payment by credit card before charging the ATM fees.