The State Bank of Vietnam decided on June 2 to cut annual interest rate caps payable on US dollar deposits by 0.5-1 percent for institutional and individual depositors.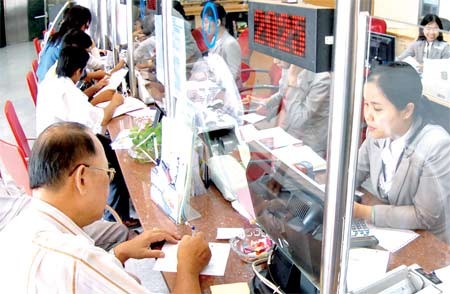 Transactions conducted at a Southern Bank branch in Ho Chi Minh City (Photo: SGGP)
The interest rate caps have been reduced to 0.5 percent per year for institutional depositors and 2 percent per year for individual depositors. The interest rate caps cover all types of promotional costs and are applicable at term-end payment.
 
The central bank move is intended to discourage dollar accumulation by businesses and strengthen the domestic currency.
 
The decision came days after the central bank told groups, corporations and enterprises that are over 50 percent-State-owned to sell the dollar to commercial banks from next month.
The State Bank raising of compulsory reserves in foreign currencies from 6 percent to 7 percent received mixed reaction.
These series of actions are believed to ease the downslide on the value of the Vietnamese dong and to bolster the dwindling national foreign reserves.
Earlier this year, foreign reserves were estimated at USD12.2 billion, dropping from nearly USD24 billion at the end of 2008.