The State Bank of Vietnam (SBV) has cut the prime interest rate by 1 percent to 12 percent as part of its continuing efforts to loosen monetary policy to head off deflation.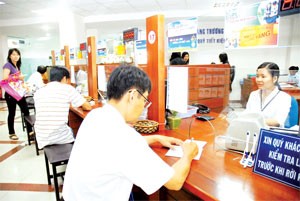 Many banks lower their interest rates yesterday though the central bank's prime rate cut only takes effect tomorrow (Photo: SGGP)
The rate cut means the maximum lending rate for Vietnam dong loans will fall to 18 percent per annum from 19.5 percent.
 
Effective tomorrow, the refinancing rate has also been lowered from 14 to 13 percent, while the discount rate and overnight rate for electronic payments were each cut by 1 percent to 11 and 13 percent.
 
The central bank also announced other measures to improve banks' liquidity, including a reduction in the compulsory reserve ratio for dong and foreign deposits by 1 percent and 2 percent.
 
On their total dong time deposits of more than 12 months, banks now have to maintain a reserve of 4 percent. For deposits of less than 12 months and non-time deposits, the rate is 10 percent.
 
For foreign currencies, the corresponding rates are 3 percent and 9 percent.
 
Announcing the changes yesterday, the central bank's governor Nguyen Van Giau urged lenders to give priority to agriculture, manufacturing, exports, import of essential goods, small- and medium-sized enterprises, and sound projects, including real estate projects.
 
He also asked lenders to reschedule loan repayments for borrowers distressed by the world financial crisis.
 
Banks offer new rates
 
Though the new rates only take effect tomorrow, many banks lowered theirs yesterday. All State-owned commercial banks immediately reduced lending rates by 1-1.5 percent to bring them to around 15-16.5 percent.
The Bank for Investment and Development of Vietnam adjusted two short-term dong lending rates yesterday.
For producers and traders of essential commodities, small and medium companies, exporters and rice traders, it is now 15 percent per year. For remaining clients, it is 16 percent.
The Bank for Agriculture and Rural Development, or Agribank, also offers short-term loans at 16.5 to 17 percent, and medium-term loans at 17.5-18 percent.
Agribank offers lower rates to long-standing clients -- 15.5 percent to agricultural producers and 15.9 percent to small- and medium-sized producers and exporters.
Among joint stock banks, LienVietBank yesterday said it is cutting lending rates to 15.5 percent per year from November 5, down 1.5 percent.
The central bank first reduced the prime rate by 1 percent from 14 percent on October 20.
Related articles:
Prime Rate Cut Could See Lower Lending Rates
Central Bank Rate Cut Sees Lending Rates Fall
Banks Continue to Slash Lending Rates