The State Bank of Vietnam trimmed the prime interest rate for the third time in two months Thursday by 1 percent to 11 percent as part of its continuing efforts to prop up the stagnant national economy.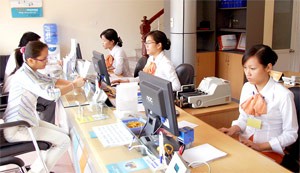 At an ABBank branch in Ho Chi Minh City (Photo: SGGP)
With bank lending rates related to this rate, the maximum rate on dong loans will fall to 16.5 percent from 18 percent.
The central bank also announced other rate cuts effective from today. It lowered the refinancing rate from 13 to 12 percent, and the discount rate and overnight rate for electronic payments by 1 percent each to 10 and12 percent.
The bank also lowered by a substantial 2 percent the compulsory reserve ratio on dong deposits as part of measures to increase liquidity.
The compulsory reserve ratio now ranges from 2 percent of total term deposits of more than 12 months to 8 percent of deposits of less than 12 months and demand deposits.
The compulsory reserve ratio on foreign currency deposits remains unchanged at 3 percent and 9 percent.
Announcing the new rates yesterday, State Bank governor Nguyen Van Giau asked lenders to give priority to agriculture, manufacturing, exporters, importers of essential goods, small and medium-sized enterprises (SMEs), and sound infrastructure and real estate projects.
Banks offer new rates again
All State-owned commercial banks cut their lending rates by 1-2.5 percent to bring them to around 12-13.5 percent in an immediate response to the central bank's decision yesterday.
The Bank for Investment and Development of Vietnam lowered its dong lending rate by 1 percent to 13 percent for producers and distributors of essential goods like fuel, steel, fertilizers, drugs, and energy, small and medium companies, exporters, and rice traders. 
 
For other borrowers, it is capped at 14 percent for short-term loans and 14.8 percent for medium- and long-term loans.
The Bank for Agriculture and Rural Development also adjusted lending rates to 13.5 to 16.5 percent for short-term loans and 14.5-16.5 percent for medium- to long-term loans.
It reduced the rate by 1.5-2 percent to 12 percent for farming households. The rate for SMEs and exporters is 13 percent.
The Bank for Foreign Trade, or Vietcombank, is offering a lending rate of 13.5 percent, down 2.5 percent, and a priority lending rate of 12 percent, down 1.5 percent.
The central bank first cut the prime rate to 13 percent in October and to 12 percent on  November 3.
Related articles:
Central Bank Slashes Prime Lending Rate Again
Prime Rate Cut Could See Lower Lending Rates
Central Bank Rate Cut Sees Lending Rates Fall
Banks Continue to Slash Lending Rates