A dramatic rise in the interest rate offered to bank depositors was unable to stem the falling value of the dong. Last week the State Bank of Vietnam, the nation's central bank, increased the maximum interest that commercial banks can offer depositors to 18 percent a year. Yet the dollar rose to VND16, 700, up from 16,195 on Friday.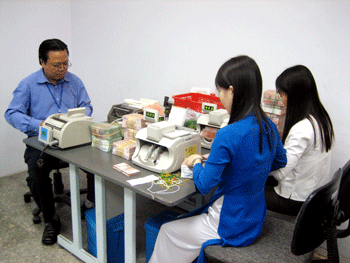 Asia Commercial Bank's employees are counting deposits as the bank increase annual interest rate for dong savings(Photo:U.Phuong)
The rise in the value of hard currency is because the demand of importers exceeds available supply, according to the central bank.
Several commercial banks offer dollar depositors an interest rate of over 7 percent a year.
In addition, the central bank provides commercial banks with the foreign currency to stabilize markets.
The bank will further reduce the value of the dong in order to support the country's exporters in the world market and restrict imports, said Mr. Nguyen Van Giau, Vietnam central bank governor.
Some commercial banks offer depositors an annual interest rate of 4.49 percent for dong-denominated savings accounts and 14 to 15 percent for time deposits.
State-run and foreign-invested banks are flush with deposits, but joint-stock commercials banks are receiving fewer depositors, a central bank official said.
Government-run banks offer 12.82-16.8 percent a year for short-term loans. The officers of privately-owned banks said that they charged about 18 percent. Some commercial banks also require an application fee of 0.5 – 4.5 percent.
To prevent the banks from collecting unreasonable fees, Mr. Giau stated that his office will issue a decision to prevent such action.