Speculation in the US dollar has pushed up its price against the dong on the open market, State Bank of Vietnam Governor Nguyen Van Giau said, adding the bank would take measures to prevent it.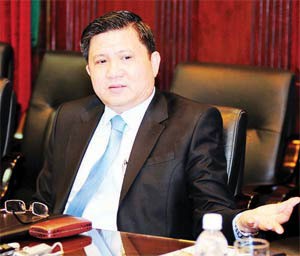 State Bank of Vietnam Governor Nguyen Van Giau (Photo: SGGP)
While the exchange rate remains stable at commercial banks, it has been remarkably volatile on the open market, with the dollar rising as high as VND18,200.
He spoke to Sai Gon Giai Phong about the issue.
The situation has come about for many reasons, including comments made by some agencies on the global economic crisis, and some times those comments are contradictory, Mr Giau said.
"I do not want to mention them here, but they have created certain problems in the monetary market. The bank will take steps and will coordinate with agencies to deal with them soon."
SGGP: Since the prices of many products in the market are marked in the US dollar, consumers will suffer when the US dollar rises against the dong. What are your comments?
This problem should be resolved on the basis of laws. According to Article 22 of the Ordinance on Foreign Exchange, prices of good must not be marked in foreign currencies. If it is required, it must be approved by the Prime Minister.
Any violation of this regulation should be strictly punished.
Some businesses marking prices in foreign currencies argue that other businesses have done the same earlier but nothing has happened to them.
It is an unacceptable argument. Everyone must abide by the law when they are doing business. Relevant agencies, however, should pay more attention to this issue to strengthen their control over the posting of prices.
There is a suggestion that organizations that are keeping foreign currencies should be forced to sell a certain amount to banks? 
Many commercial banks have proposed it, but under the Ordinance, its application depends on the Prime Minister. In 1999-2001 it was carried out.
Many businesses have failed to comply with foreign exchange regulations, so we will have to take strong measures to deal with them. For example, commercial banks' agents violating Decision 21 of the SBV Governor will have their licenses revoked and the directors of those commercial banks will be punished. The SBV will issue a regulation on this issue in a few days.
Could you tell us about the government's policy on interest subsidies?
Reports about the implementation of this policy in many provinces and cities prove it is a sound and timely policy by the government. However, I would like to remind businesses that the interest subsidy is available only for short-term loans that help businesses maintain production and trade, and cut down production costs.
The stock exchange has rebounded recently. People are afraid that part of the government's economic stimulus package has been invested in securities. How is the SBV controlling this?
This is groundless rumor. Total outstanding security-backed loans are about VND6.9 trillion and unchanged from the beginning of this year. Banks are capable of identifying projects eligible for interest-subsidy loans.