The State Bank of Vietnam has widened the foreign currency trading band from 3 percent to 5 percent on either side of the official interbank rate.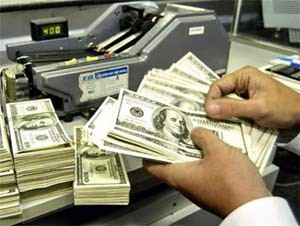 The State Bank of Vietnam has widened the foreign currency trading band to 5 percent to increase flexibility and more accurately reflect the market demand and supply situation
Effective March 24, the decision is expected to help increase flexibility in forex trading and more accurately reflect the supply and demand situation on the market.
 
The central bank said it would take strict action against anyone found trading at exchange rates outside the band.
 
The bank also seeks to dissuade enterprises from holding on to dollars to ensure healthy rotation of foreign currency in the economy.
 
Nguyen Van Giau, the central bank's governor, said many exporters are thought to be speculating in dollars.
 
The dong fell by VND10 to VND17,650-17,680 to the US dollar on the unofficial market in Ha Noi on March 23.
 
Later that day, after the decision was announced, it weakened further to VND17,780-17,800.
 
Vietcombank's dollar selling rate was VND17,489 on March 23 against the interbank rate of VND16,980.
 
This is the fourth time since last year the central bank is widening the trading band, which was 0.75 percent in January last year.
 
Before that it had only made very minor changes to the trading band on a few occasions.
 
Since early last month, there have been signs that banks face a short supply of dollars -- they have been buying and selling the greenback at the same price. Meanwhile, the dollar trades higher on the unofficial market.
 
Due to the increasing demand for the currency, banks have been using derivative products to bypass prevailing rules so as to sell it at higher prices than permitted.
 
Corporate clients have had no choice but to accept the rates if they wanted to buy dollars to settle their import bills.