The State Bank of Vietnam on Thursday expanded the daily foreign currency trading band by 1 percent to 3 per cent over the interbank rate.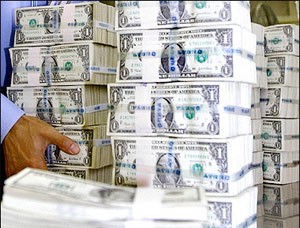 The daily foreign currency trading band is widened by 1 percent to 3 percent as of November 7
The decision, to take effect today, gives banks more flexibility and is aimed to reflect more closely the forex supply and demand position, and boost exports to ensure economic growth in the context of the global financial woes.
 
This is the fourth time this year the central bank has tinkered with the trading band in its efforts to deal with the volatility on both the domestic and global forex markets.
 
An official from the central bank's Foreign Exchange Management Department told Sai Gon Giai Phong that the forex rate would be stable with the new band.
 
The interbank rate was VND16,511 to the US dollar yesterday.
 
Vietcombank's buying and selling rates were VND16,850 and 16,841, which were the upper limits of the prevailing 2 percent trading band.
 
On the street, the dollar sold for slightly more than VND17,000.
 
Vietnam's import bill for the first ten months was US$70.06 billion and export earnings were $53.77 billion.
 
The trade deficit in October alone was $700 million.
The widening of the trading band is part of the central bank's effort to stimulate economic growth.
The central bank has taken series of monetary-policy decisions in the past three weeks to free more money into the market.