The Viet Nam Banks Association, on Monday, held a meeting with Ho Chi Minh City-based commercial banks to discuss the implementation of the State Bank's regulations concerning interest rates on term deposits.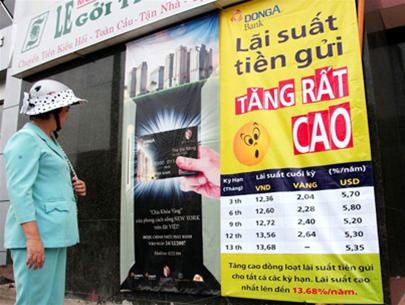 A customer gazes at an advertisment board in front of the East Asia Bank on Feb 27
Accordingly, the central bank advised commercial banks to cap their interest rates on savings accounts at 12 percent per annum and threatened to punish any bank that exceeded this limit.

Commercial banks have been requested to keep interest rates on short-term deposits lower than those on long-term deposits in order to ensure the stable and effective operation of those banks.

Each bank was also required to apply appropriate lending interest rates after taking into account all covering expenses, profits and customer services.

Recently, banks began raising their rates and offered 1.1 percent per month for a one-month deposit and up to 14.1 percent per annum for long-term deposits, which has led to a "rate war" in the domestic market.