A series of commercial banks have announced an increase in deposit interest rates in VND to 12 percent per annum from 11 percent in the previous year in an effort to stabilise exchange rate and curb inflation as of Nov. 8.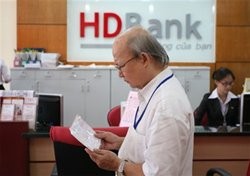 A man watches his deposit book at HDBank. Deposit rates of commercial banks have increased to about 12% per year. (Photo:Saigontimes)
The move followed an agreement between the State Bank of Vietnam and representatives of five state-run and 11 joint-stock commercial banks at their meeting on Nov. 5 to discuss monetary and forex measures in the remaining months of the year.
Saving interest rates of the Bank for Investment and Development of Vietnam (BIDV) will hover 12 percent per year, applicable to savings from one-month term upward.
Such commercial banks as Habubank, Tien Phong Bank, VPBank and Oceanbank have also announced their interest rates at the same level.
To effectively implement monetary and forex measures, the State Bank of Vietnam has directed credit institutions to spend all sources of capital for agriculture production, exports, rural area, small- and medium-sized enterprises, power development projects and loan demands for goods and service supply for the two remaining months of the year and early next year.
At the same time, these institutions should reconsider debt payment duration, loan interest exemption or reduction for flood-hit provinces or provide them with new loans.
Commercial banks are required to ensure liquidity and strictly follow regulations on safe ratios in banking activities.
Meanwhile, credit institutions need to take measures to reduce demand and increase supply for foreign currencies, limit loan provision in foreign currencies and the purchase of foreign currencies for the import goods listed as nonessential imports.
They are also asked to strictly implement the central bank's regulations on foreign currency listing and trading.