Several commercial banks have cut their reward and lending interest rates after the State Bank of Vietnam announced reduction in several management interest rates on March 18.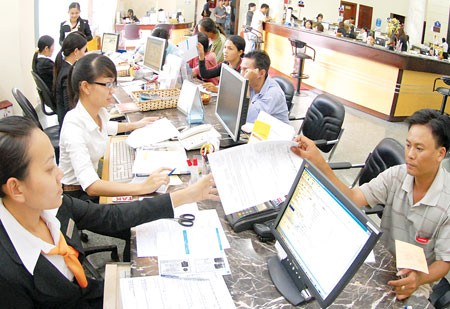 Customers ask Dong A Bank for loans in HCMC (Photo: SGGP)
The commercial banks have reduced the reward interest rates by 0.4-0.6 percent per year.
Asia Commercial Banks announced savings rates at 5.9-6 percent per year for 1-3 month terms, a decrease of 0.3-0.45 percent. The rate for 12-24 month terms falls from 8.2 percent to 8 percent per year.
Export Import Bank reduced the reward interest rate from 6.6 percent to 6 percent for 1-3 month terms, and from 7.5 percent to 7.3 percent for a one-year term.
Bank for Investment and Development of Vietnam cuts the rate to 5 percent for one-month terms, 5.5 percent for two-month terms, 6 percent for 3-5 month terms, 6.5 percent for 6-11 month terms, and 7.5 percent for 12-month terms.
The reward interest rate for USD is capped at 1 percent to individuals and 0.25 percent to businesses.
The Bank for Agriculture and Rural Development applies the maximum reward interest rate of 1 percent for deposits of indefinite terms and less than one-month terms. The rate is 6 percent for 1-6 month terms and 7.5 percent for terms of six months and longer.
Lending interest rates decreased to 8 percent in agriculture and rural areas, exports, support industry, small and medium enterprises, and hi-tech applied companies.
Vietnam Commercial Bank customers are now able to obtain loans with 8 percent interest rate per year in the first six months to purchase apartments in 17 real-estate projects in Hanoi, HCMC, Binh Duong, and Vung Tau.
Related articles:
State Bank cuts several management interest rates
Reward interest rate falls to 6 percent