The Sai Gon Commercial Joint Stock Bank (Sacombank) recently got the Securities Trading Commission (STC)'s nod to list its shares by mid-July, 2006, becoming the first bank to be listed. It is the largest joint stock bank in Viet Nam with the registered capital of nearly VND1.9 billion (US$119 million).
Financial experts and investors believe that this event would bring a spectacular change to the domestic stock market. Around 190 million shares of Sacombank will be traded on the market, which helps double the transaction volume and lift the Vietnamese stock market's to a new scale.
According to Mr. Vu Bang, Chairman of the State Securities Commission (SSC), the total value of transactions in the capitalized market increased eight-fold compared with that of 2005 and would reach 8-10% of the GDP by year-end.
After listing on the stock market, Sacombank's shares will be in the group of bluechips, including the Viet Nam Dairy Products Joint Stock Company (Vinamilk), Kinh Do Company, Cable and Telecommunication Materials Company (Sacom), Refrigeration Electronic Engineering Corporation (REE). There would be a transition in transactions from small-valued shares to bigger ones with higher liquidity.
Currently, there are roughly 7,000 shareholders trading Sacombank's shares in the over-the-counter (OTC) market. Thus, when the bank is listed, there will be more investors participating in the stock market.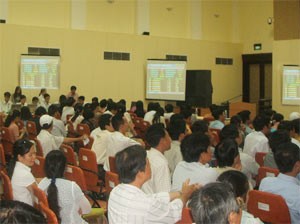 Many investors will eye on Sacombank's shares when it is listed. (Photo:TK)
In the OCT market, price of Sacombank's shares increased eightfold compared with the nominal value and many experts predicted that it would sky-rocket when the bank is listed.
Many investors want to add the first bank shares to their investment portfolio, especially such "high quality products". However, it is a matter of fact that the eventful change can be witnessed only in domestic investors.
Foreign investors in Sacombank, the International Finance Corporation, Britain's Dragon Financial Holdings, and the Australia New Zealand Banking Group (ANZ), own nearly 27% stake in the bank.
As regulated by the State Bank of Viet Nam, even when a bank is listed, foreign investors can own a maximum of only 30% stake in the bank (and 49% stake in other enterprises). This regulation has so far discouraged a lot of foreign investors.
Following Sacombank, the Asian Commercial Bank (ACB) is preparing to apply for a listing license. Currently, room for foreign investors in this bank were also fully occupied and a major shareholder of ACB said that he would invest more in the bank if the Vietnamese Government expands the room for foreigners.