Previously, would-be customers had to go the banks and beg for money, but nowadays it's the banks, both state-owned and private, that are taking the initiative, venturing into territory that their industry avoided in the past, and going out in search of loan customers.
 
Banks seek customers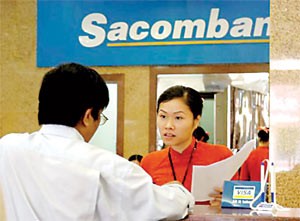 A client applies for loan at Sacombank
Many state-owned and joint-stock commercial banks have started marketing themselves through seminars or direct dialogue with small to medium enterprises in various sectors.
 
These get-togethers have generated plenty of commercial opportunities for both the banks and their corporate clients.
 
Pham Linh, business director of Viet Nam International Bank's Ho Chi Minh City Branch, says his bank's prime targets are stable firms with sound business plans.
 
After discovering their needs, VIB Bank can supply them with every finance-related service they might need, including advice, market surveys and capital, he says.
 
The Asia Commercial Bank, Orient Commercial Joint-Stock Bank and Sai Gon Joint-Stock Commercial Bank (SCB) have also changed their strategies and are looking for customers instead of waiting for them to come.
 
If an enterprise needs capital, a bank officer will pay a visit and dish out advice, after which a loan contract can be signed on the spot.
 
Many banks even have loan marketing teams to introduce their services to potential customers.
 
"Previously, when I needed to borrow money, I was hesitant about going to a bank because the procedures were so complicated and there were so many restrictions on making a loan," says Mr. Nguyen Phu Vinh, director of Tan Vinh Electrical Equipment Co.
 
"Now the loan application is no longer difficult thanks to the help of the Asia Commercial Bank's marketing people. Basing its decision on the soundness of my business and my suggestions, the bank lent me the entire amount I was seeking.
 
"In fact, right from the start they guided me in completing the borrowing procedures properly so that I didn't have to waste time going to the bank many times."
 
Saigon Thuong Tin Joint Stock Bank (better known as Sacombank) recently got together with Business Edge, a business education organization of the International Finance Corporation's Mekong Private Sector Development Facilities, to hold a workshop on money management that drew more than 100 business women.
 
The workshop gave the women much needed information on how to run a business better by curbing expenses and making more competitive products.
 
So Sacombank is doing more than just financing enterprises, it is helping them to use capital more effectively.
 
How much do banks satisfy their clients?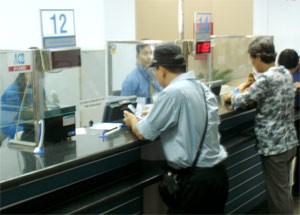 Asia Commercial Bank's officers advise clients on banking services (Photo: Y.Ch.)
Commercial banks' credit activities have obtained considerable results in recent times but there are still some shortcomings. Many enterprises complain that the banks fail to meet their demand for major capital.
 
According to Mr. Pham Linh, enterprises should sympathize with the banks because the latter are loan makers, not investors.
 
Foreign banks, he points out, have an advantage over the home-grown competition thanks to their far greater capital and experience.
 
With their market experience, foreign banks are not only ready to make loans but are also management consultants and even their clients' partners.
 
Vietnamese banks are going all-out to generate business. They have simplified and sped up their procedures for assessing a project and granting a loan, obviating the need for credit brokers.
 
In addition, they use the latest technology to collect customer data from all their branches so that managers can monitor the assessments and find potential customers.
 
A SCB officer says his bank gives a discount rate for loans to its prestigious customers. And it offers an appropriate credit limit and diverse forms of lending to satisfy enterprises without basing decisions on asset guarantees.
 
Banking experts advise that enterprises should calculate the effects of bank financing before applying for a loan because it is not only the amount but also the effective use of the money that matters.
 
Enterprises should consult banks for advice on the best and safest ways of using their money.
 
Enterprises' capital needs will be met if their preparation is thorough and their projects are sound.