After one month of adopting the government's policy to provide four percent loan subsidies to companies in an effort to stimulate investment, production and business, the monetary market in Ho Chi Minh City have begun to bounce back with considerable growth in not only loans but also savings.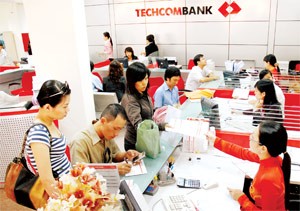 Transactions conducted at a Techcombank branch in Ho Chi Minh City (Photo: SGGP)
Until recently, commercial banks in HCMC offered loans worth VND501 trillion ($287 million), a year-on-year increase of 13.2 percent, 47.1 percent of which have been offered by joint stock commercial banks.
 
Commercial banks in the city mobilized over VND26 trillion in the first two months, bringing total mobilized capital to VND587.5 trillion, a year-on-year increase of 20.2 percent.
 
State-owned banks mobilized VND182.3 trillion, a year-on-year increase of 23 percent, accounting for 31 percent of the city's total mobilized capital, and joint stock commercial banks mobilized VND310 trillion, a year-on-year increase of 24.4 percent, presenting 52.8 percent.
 
To strengthen liquidity and ensure sufficient capital to grant loans, banks have increased savings interest rates by 0.5 percent.
 
Lending rates offered by commercial banks have not changed considerably.
 
Lending rates for short-term loans, in dong, are from 8.5 to10 percent. Middle to long term loans are 10-10.5 percent. Negotiable lending rates are 12.75-15 percent.