After keeping deposit interest rates at low levels for a long time, commercial banks have simultaneously raised rates for long terms by 0.1 to 0.5 percent since June this year.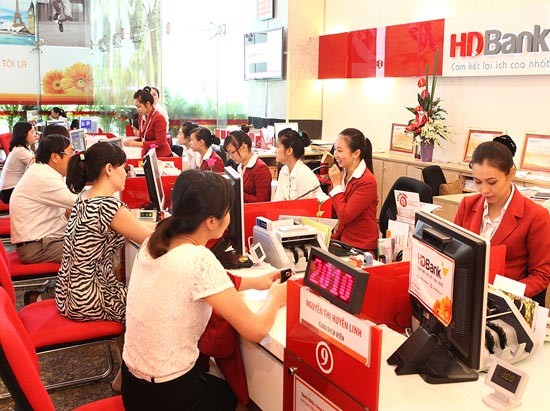 HDBank has increased deposit interest rate from 6.5 percent to 7 percent per year for one year term (Photo: SGGP)
Tien Phong Commercial Bank is one of lenders who offer high interest rates with rates for one to two month terms at 5 percent per annum, for three to nine month terms at 5.9 percent, and for 12-month term at 7.45 percent per annum. Even, Ocean Bank, which recently was bought by the State Bank of Vietnam at a price of zero Vietnamese dong, also raised its rates for nine to eleven month terms to 7 percent per annum.
 
Noticeably, state-owned lenders, such as Vietnam Bank for Agriculture and Rural Development (Agribank), Bank for Investment and Development of Vietnam (BIDV), and Vietnam Joint Stock Commercial Bank for Industry and Trade (VietinBank) have also participated in this interest rate competition.
 
Particularly, Agribank has increased its deposit interest rates by 0.5 percent per annum and rate for 24-month term to 6.8 percent per annum from 6.3 percent. BIDV added 0.2-0.5 percent per annum to its rates, depending on term. VietinBank also raised its rates by 0.3 percent.
 
Mr. Nguyen Hoang Minh, deputy director of the State Bank of Vietnam – Ho Chi Minh City Branch, said that money mobilized by short-term deposits accounted for up to 70 percent of total capital resource while total loan book accounted for 55 percent. In order to ensure liquidity, lenders have to raise interest rates for long term to lower the difference between deposits and loans, especially when loan book for medium and long terms had strongly increased in the past months.
 
Mr. Minh revealed that medium and long term loans now have accounted for 54 percent of total loan book while it merely touched 48 percent in late 2014. He said that it is a good sign that businesses are tending to borrow money to revive production after reaching deadlock for many years.
 
Mr. Le Thanh Trung, vice president of HDBank, said that raising interest rate is an appropriate move to economic movement. Interest rates are needed to surge slightly for gross domestic product to increase and dollar exchange rate to remain steady. If deposit interest rates in Vietnam are kept at low levels while dollar exchange rate increases, it is unavoidable that people will stockpile US dollar instead of Vietnamese dong.
 
Mr. Pham Linh, vice president of VietA Bank, said that lenders have to raise deposit interest rates as rates were lowered sharply earlier to 4-4.5 percent per annum, much lower than deposit interest rate ceiling of 5.5 percent per annum for short terms, regulated by the central bank. He added that lenders have to raise rates in order to compete with other investment channels, including real estate and securities which have been drawing a large sum of idle funds from savings accounts because deposit interest rates were too low. He said that deposit interest rate possibly would not climb higher but definitely would not drop till the end of this year as credit cycle will speed up during the last two quarters of the year while capital mobilization has to compete with other channels.
 
Mr. Trung said that lenders raised deposit interest rates, especially for long-term deposits, to encourage customers to deposit money for a long time so that they are able to make business plan initiatively. This also helps them to offer lower rates for medium and long-term loans. According to Mr. Trung, theoretically, an increase in deposit interest rate will somewhat affect lending interest rate, however lending interest rate also depends on other factors.
 
'The impact of increasing deposit interest rate will hardly happen this year as it will weaken competence of banks. In addition, since the beginning of this year, the central bank tended to lower lending interest rates, lenders will have to calculate carefully as customers will not borrow money at high rates,' said Mr. Trung.
 
He also said that in order to compete with other channels, bankers will choose a solution to minimize expenses so as to be able to raise deposit interest rates to attract money and optimize their capital but will not increase lending interest rates to ensure credit growth and lessen bad debts.
 
Leader of a Ho Chi Minh City-based commercial bank said that interest rates are at a reasonable level. However, in near future, both deposit and lending interest rates will possibly climb but at low range as credit institutions' rates depend on capital supply and demand in the market.
 
If there is unusual movement the central bank will flexibly and timely accommodate money and help banks via refinance, he said.