The US dollar has recently risen against the dong but analysts think the gains will be short-lived since the US government has pumped a large amount of money into the economy to stimulate growth.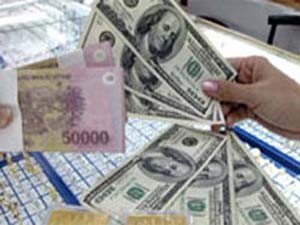 Experts say the US dollar's gain against the dong will be short-lived (Photo: VNN)
Following the State Bank of Vietnam's decision to devalue the dong on December 25 to boost exports and reduce the trade deficit, the values of gold and the greenback have increased.
Since December 27, the Asia Commercial Bank (ACB) has sold the dollar for 17,494 dong and bought it for 17,350 dong. At Tan Dinh and Ben Thanh markets, the buying price is the same but the selling price is slightly higher, at VND17,500 dong.
But Trinh Hoai Nam, deputy director of East Asia Bank's Remittance Company, said the dollar could weaken because of the US Government's economic stimulus package.
He added that with the greenback weakening soon, investors should not hoard the currency.
Gold prices too have gone up in Vietnam as globally the metal rose to US$873 per ounce on December 27.
In HCM City it rose to VND17.72 million per tael on the same day, up VND500,000 from the previous week.
Huynh Trung Khanh, the World Gold Council's advisor for Vietnam and deputy chairman of the Vietnam Gold Trade Association, said globally gold could go up again to $900-1,000 in the first half of 2009.
But it could decline again when the US economy recovers and inflation goes down next year, he said.
Because of short-term volatility, only medium- and long-term investment in gold would be profitable, he warned.