The strain of foreign currency market's demand and supply has been released, greenback speculation has also been reduced, said Vietnam State Bank on July 8.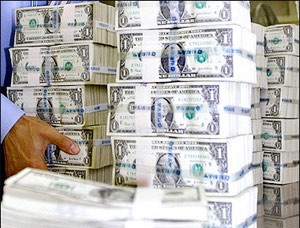 Dollar supply, demand returns to normal
The dong-US dollar exchange rate continues to be suitable for the country's macro-economy, with inflation in the first five months of the year at 2.12 percent and balance of international payments at a reasonable level.
The exchange rate has also helped to increase export competition, control imports, attract foreign investment, keep balance payments stable and manage foreign debt.
Up to June 30, the dong-dollar exchange rate on the interbank market was VND16,953 per dollar, an increase of 0.07 percent compared to the previous month.
The exchange rate in the interbank market was VND16,957 per dollar on July 8 and the exchange rate was VND17,805 per dollar at commercial banks.
According to Tran Xuan Huy, general director of Sacombank, supply and demand has been balanced since the central bank's move to widen the trading band.
Meanwhile, exporters are considering selling US dollars, as they need capital to serve their business.
The deputy general director of ABBank, Pham Quoc Thanh, said that foreign currency supply and demand has become more stable.
"More exporters are selling foreign currencies to banks, while importers can buy foreign currencies from banks at the exchange rates officially quoted by the banks", he said.
However, the dollar fluctuations on the black market will, to some extent, have impacts on the exchange rates of commercial banks, as the supply of dollars going to banks will decrease.