Ever since the State Bank took a series of measures to stabilize the financial markets, the dollar price has dropped, both in bank dealings as well as in the black market.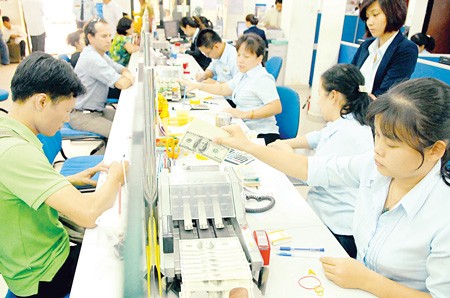 Customers doing dollar transaction in Eximbank.(Photo:SGGP)
The dollar exchange rate as quoted by commercial banks yesterday fell sharply due to an increase in the supply.
On April 22, many commercial banks quoted the dollar exchange rate as lower than the permitted level by VND10-15 per dollar.
The selling price of the dollar at Vietcombank (Bank for Foreign Trade of Vietnam) was VND20,900 per dollar. The corresponding price at Eximbank was VND20,880 per dollar and at ACB it was VND20,830.
By the afternoon of the same day, the dollar exchange rate in banks continued to fall. The dollar price in Vietcombank was VND20, 830 per dollar for purchasing, a decrease of VND70; in Eximbank at VND20,800 per dollar, a decrease of VND80; in ACB at VND20,709, a decrease of VND90 compared to early morning of the same day.
The same situation also occurred in the black market.
In Hanoi, the dollar-buying price in the black market dipped to around VND20,830.
According to commercial banks, the reason for the falling dollar exchange rate is due to an increase in dollar supply, after a series of measures taken by the State Bank aimed to stabilize the monetary market.
The State Bank's policy of reducing foreign currency reserve rates in banks and applying ceiling on the dollar interest rate at 3% per year has given banks more active dollar currency and cash in hand.
As the corporate dong deposit rate is 14% per year, many firms want to save money in dong instead and convert USD to VND.