Many foreign exchange centers in Hanoi have ceased transactions in the US dollar currency, while those in Ho Chi Minh City are experiencing a gloomy state, possibly due to fear of state inspections or a fall in the dollar rate.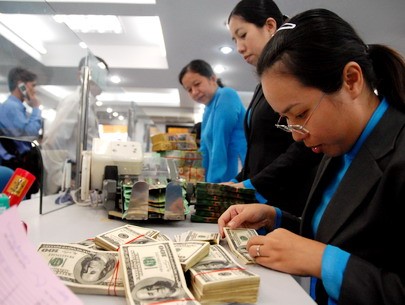 A teller counts US dollar banknotes at a Sacombank branch in Ho Chi Minh City (Photo: Sacombank)
Market gloomy

In Ho Chi Minh City, many foreign currency trading points are lying low. K.T shop near Ban Co Market in District 3, known to buy the dollar at a high rate and usually crowded with people, is now refusing many customers. 
Similarly, H.L shop in District 5, known as the "black-market for US dollar trading" refused to trade in US dollars yesterday. 
Only K.H shop at Vuon Chuoi Market in District 3 is still trading in the dollar but it has pushed up the buying price, with a gap of VND120 per dollar. 
The shop is buying VND21, 520 per dollar and selling at VND21, 650 per dollar, down by VND450 per dollar compared to earlier this month. 
All the large foreign exchange points in Hanoi have stopped transactions except a few stray smaller dealers. These shops continue to buy and sell at VND21, 550 and VND21, 650 respectively. 
Quoc Trinh Jewelry Company, normally crowded with customers dealing in foreign currency and gold, has been rather quiet since March 7.  
Nguyen Kim Hanh, who lives in Me Tri (Hanoi) and sells cosmetics online, said she had gone to Ha Trung to buy US dollars for importing goods but the shops had ceased all dollar transactions and she had no idea where to buy them now. 
By mid morning of March 7, Bao Tin Minh Chau Co., Ltd. suspended its foreign exchange services. The company sent out a notice that they no longer trade in foreign currency at any of its three outlets in Hanoi. 
Causes

The decrease in exchange rates and fear of possible strict inspections at foreign exchange points are being blamed as the cause of this gloomy state at transaction points. 
Dollar trading shops are now conducting transactions with only their regular customers. While previously transactions were conducted at the shop front, now they are being conducted at customers' homes, to avoid the possibility of state managed inspections. 
The State Bank of Vietnam has said that it would limit using US dollars in economic transactions. Meanwhile, deposit interest rates in Vietnam dong are now much higher than in US dollar. Therefore, people prefer making deposits in dong.  
Many banks have reduced savings interest rates in dollar during the past few days.  
Techcombank, ABBank and SeAbank have offered a four percent rate per year and some banks have kept the rate at five percent for 6-12 month terms as compared to the previous six percent rate.  
The Central Bank is contemplating inspections on foreign exchange points because foreign currency transaction agents, licensed to serve tourists, have not conformed to the Central Bank regulations and are instead operating a free market.   
The management agencies, the Central Bank and the police will independently check foreign exchange points for any possible violators. Exhibits will be confiscated but not penalized.  
The possibility of strict inspections is being viewed as the main reason for foreign currency transaction shops to cease operating, though the drop in the US dollar exchange rate has also affected the gold market. 
One representative of a company remarked that the freezing of free (unauthorized) dollar transactions would bring down the gold price even further in the following days.