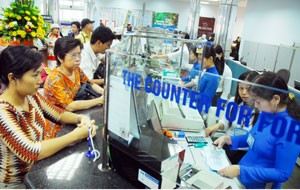 Transactions at a branch of ACB Bank in Ho Chi Minh City
The State Bank of Vietnam, the nation's central bank, has no plans to merge banks and will support those facing serious difficulties so that they do not lose liquidity, according to a report released Wednesday.
Commercial banks have had sufficient growth to ensure healthy operation, said Deputy Governor Tran Minh Tuân, according to the report.
Commercial banks had sustainable growth in service development, bank technology, financial capacity, competitive ability, and safety in operation. There has no bank that is classified as weak or that needs specific attention.

By Ham Yen-Translated by Dan Que