Considering that six foreign banks are applying for establishment as 100%-foreign-owned banks in Viet Nam in addition to three foreign branches licensed this month and 40 others in operation, will foreign banks one day pose a threat to Vietnamese ones?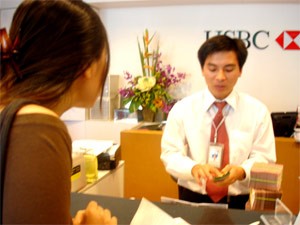 Foreign banks are keen to establish subsidiaries in Viet Nam (Photo: H.Y.)
Foreign banks are pioneers in applying state-of-the-art banking technology and new services in Viet Nam and are doing their utmost to expand their networks.
Many foreign banks are eager to establish subsidiaries in Viet Nam. For instance, though the Singapore-based Overseas Chinese Banking Corporation (OCBC) is holding 10 percent of stakes in VPBank, it has recently applied to establish a subsidiary bank in the country to target small to medium enterprises and individuals.
In addition, the Hong Kong and Shanghai Banking Cooperation (HSBC) has decided to set up a subsidiary bank in Viet Nam to provide clients with more banking services and products, said CEO Thomas Tobin.
Just this month, the Republic of Korea's Industrial Bank, Australia's Commonwealth Bank and Taiwan's Taipei Fubon were licensed to open branches in Ho Chi Minh City and Ha Noi for a duration of 99 years.
Still no fear in sight
Despite such influx, there are only a handful of banks applying to open fully-foreign-owned banks, therefore fierce competition is yet to occur between foreign and local banks, analysts said.
In addition, the local financial market is growing well so domestic banks have many opportunities to develop new financial services to outdo their overseas rivals.
Meanwhile, foreign banks will have to face certain challenges when operating in Viet Nam, warned Doctor Le Xuan Nghia, head of the State Bank of Viet Nam's Banking Development Strategy Department.
Because Vietnamese enterprises are somewhat alien to foreign professional banking management, they will have difficulty seeking loans or just shy away from such foreign banks, he explained.
Then, despite being a potential wholesale market, most high incomers are living in cities and urban areas where domestic banks have already taken roots, hence little room for foreign newcomers.
Added to such obstacles are the country's shortage of human resources, and local banks' readiness to pay high salaries to attract qualified employees.
However, Nghia admitted foreign banks will have many opportunities to develop their services in wholesale markets, investment and commercial funds this year.
He said those services are in great demand in the country but local banking institutions are yet to provide them due to technological constraints, lack of human resources, and risk management skills.