Unlike its rapid appreciation on many consecutive days, the domestic gold price for the past two days has fallen dramatically. Experts predict the world's gold demand, especially in Asian countries, to continue to rise.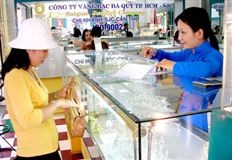 More Vietnamese consumers will buy gold thanks to the decrease of the domestic gold price. (Photo:TK)
Sai Gon Jewelry Holding Company (SJC) traded gold at VND14.20 million a tael late May 15, a remarkable reduction of VND500,000 a tael over the morning. On the same day, Phu Nhuan Jewelry Company (PNJ) gold price also decreased to VND14 million a tael.
Particularly, the domestic gold market was likely to become more eventful when it witnessed more sales, commonly of 5-10 tael gold bars.
Starting from late last week, the global gold price has seen heavy falls. On May 15, it slipped to US$ 691 an ounce from US$719 earlier in the day.
Compared with other currencies, the US dollar strongly decreased, hitting a lowest record over the past 12 months (EUR1 = US$1.297). The VN dong-US dollar exchange rate listed at many local commercial banks was 15,977.
Demand exceeds supply
Back in the 1970s, when the global gold market had enough supply of gold and gold mining companies would increase their gold output to fully meet the market's demand. However, the world's current demand for the precious metal is exceeding the supply and the overall output tends to gradually diminish.
Since late 2005, there has been a tendency for investors to shift their intangible properties (bonds, holdings…) into tangible one, which can be easily acknowledged as gold. The demand for gold has risen, not only in the US and European countries, but also in Russia, Middle East, Latin America and Asian markets such as China, India, South of Korean, etc.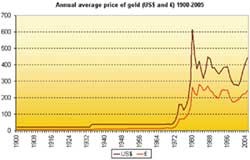 Annual average price of gold (US$ and £ in 1900-2005)
Over the past two decades, many countries including Russia, Argentina and South Africa have decided to increase their gold reserves although some other countries' central banks have been selling down their gold reserves.
Currently, the world consumes 1,000 tons of gold more than its yearly output while many major gold exploiters reduced their output by 10-15% in 2005.
The global gold price has started to increase over the past two years and the situation will be maintained for the next 10 years.
Rocketing Gold Demand in Asian Markets
Predictions of the rocketing demand for gold of the Asia in general and China in particular will result in the surging of the global gold price.
When the gold price was US$500 an ounce early January 2006, many international giant consultants like the IL&FS Investsmart recommended more gold purchase to investors in Asian market.
China's gold reserves reported is expected to reach around 3,000 tons and many economists are urging the country to increase its gold reserves, aiming at balancing its reserves structure, which has depended much on the risky US dollar.
According to China's State Administration of Foreign Exchange, one of its targets for 2006 was to "improve the operation and management of foreign exchange reserves and to actively explore more effective ways to utilize reserve assets". This means that China plans to shift its foreign currency reserves into gold, which will create huge impacts on the global gold market.