The dong fell against the dollar on the black market after the State Bank of Vietnam recently widened the daily currency trading band from two to three percent.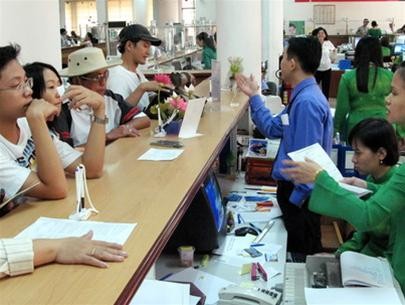 Making transaction at Vietcombank - Photo: TTre
While the Vietcombank listed the dollar at VND 16,950 at the close of the last day of the previous week, jewelry shops yesterday bought and sold the dollar at VND 17,300 and 17,420 respectively.

A large number of investors flocked to the shops to buy the dollars at the high price. Many shops sold out dozens of thousands of US dollars to customers who are betting that the dollar will get dearer in the near future.

Some experts have opined that the central bank's move to widen the band is a necessary measure in the context of an increase in the US dollar prices over some other foreign currencies.

They say that purchasing a lot of US dollars at this point of time poses a high risk to commercial banks as the country now has sufficient and stable supply of foreign currencies, while importers' demand for US dollars is modest at the end of the year. Their negative analysis of current global economic crisis' adverse effects on the dollar has added to the banks' reluctance to buy the currency.

This explains why not only Vietcombank, but other commercial banks also have set their dollar- dong exchange rate at 30 -40 dong lower than the ceiling exchange rate set by the central bank.

Nguyen Phuoc Thanh, general director of Vietcombank, said that there will is no chance for an unexpected increase in the exchange rate of the dollar against dong in the near coming future.

Both Vietcombank and Vietnam Bank for Investment and Development, the two largest banks specialized in serving export and investment activities, have affirmed that they will not set the rate beyond the threshold of VND17,000 to the dollar in the near future.

At present, Vietcombank sells out between US $70 and $80 million daily and said that it will supply sufficient US dollars to any customer who has appropriate demand.

Apparently, the current increase in dollar rate is a consequence of investors' immature behavior. These investors simply think that the country is severely short of US dollars like in May and June. They are making a wrong judgment.

Thanh predicts that the dollar will fall again against the dong in coming days not only because of the stable and sufficient supply of US dollars currently, but also because of large volume of foreign currencies that will come from the disbursement of FDI projects and from remittances by overseas Vietnamese to their relatives in Vietnam for the Tet (Lunar New Year) holidays.