Yesterday, the first day that banks applied the trading band expansion from one to three per cent over interbank rate, saw the Vietnamese dong fall against the dollar, but the exchange rates in the market did not fluctuate as predicted.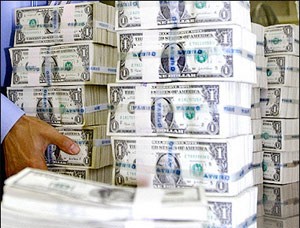 The daily foreign currency trading band is widened by 1 percent to 3 percent as of November 7
With the current trading band of 3%, commercial banks' rates can be as high as VND16,998 to the US dollar.
The interbank rate was VND16,503 to the dollar yesterday, decreasing by VND8 over a day earlier.
Vietcombank's selling rate was VND16,950, lower than the ceiling level of VND48, but highest level compare with other banks.
At The Bank for Investment and Development of Vietnam (BIDV), the selling rate was VND16,841.
In the black market, the dollar sold for slightly more than VND17,000 around VND17,100 – VND17,150. The shop owners said that supplies were still good and that they could provide as much as clients wanted.