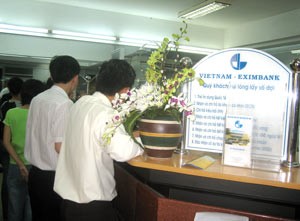 Eximbank is allowed to pilot foreign currency trading at negotiating rates. (Photo: T.C)
According to Letter No. 5582/NHNN-QLNH by the State Bank of Viet Nam (SBV), the Viet Nam Export – Import Commercial Joint-stock Bank (Eximbank) has been allowed to carry out a pilot project in trading foreign currency at negoting rates.
Eximbank is the first bank in Viet Nam to be allowed to conduct this banking operation.
The move is considered as a part of liberalization process for future foreign exchange transactions as Viet Nam integrates into the world.
According to the decision, Eximbank is to sell foreign currency in cash to Vietnamese at negotiable rates to meet their needs of buying, carrying and transferring foreign currency.
In particular, Eximbank is allowed to negotiate trading rates with individual customers in those transactions.
The experimental period will be 6 months, and to the end of the year, Eximbank will offer this service at its headquarters - 7 Le Thi Hong Gam St. Dist. 1, Ho Chi Minh City.
The permission for Eximbank to offer this banking operation will better serve the needs for foreign currency in traveling, studying and overseas medical treatment of Vietnamese people, said SBV officials.
This also demonstrates Viet Nam's commitment in liberating banking transactions, which the country made with the International Monetary Fund (IMF).
Related Articles:
SJC, Eximbank Seek to Cool Gold Fever