To build a sustainable financial market, HCM City, despite its great potential, needs to overcome many challenges, including staff and service quality, and inadequate legal and financial infrastructures, experts said May 8.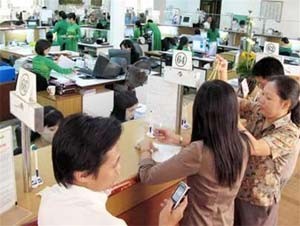 Customers at Vietcombank's HCM City branch. Despite its great potential, the city needs to overcome many challenges, including staff and service quality, and inadequate legal and financial infrastructures, experts say. (Photo: Tuoi Tre)
Potential and challenges
HCM City's economic potential is stronger than that of other big cities in the country, said Dr. Su Dinh Thanh, from the HCM City Economic University.
He was speaking at a seminar on measures to promote HCM City's financial market. 
"The city now accounts for one-quarter of the country's GDP, one-third of its industrial output, 30 percent of its budget revenue, over 30 percent of its export turnover and one-third of its FDI projects," he said.
The city also has an expanded, strong banking network, which represents 30 percent of total outstanding loans in country and the same rate of deposits. Moreover, the value of the city's financial assets makes up nearly 50 percent of the country's total amount.
However, he said, there remains problems facing the city's financial market. The role of the city authorities in boosting the financial market's development is rather poor.
The city's banking system has a smaller operating scale than other big cities' banking systems in the region.
Its banking system is also less experienced, in terms of international financial services, market analysis and project evaluation.
The city's non-bank financial institutions are limited and their scope of use have yet to be  diversified, so they have yet to become a supply of medium and long-term capital to the economy, he said.
In addition, the city's financial and monetary markets have yet to be combined to regulate capital markets.
 
Key factors
Dr Hoang Dao Hai, general director of the investment fund Indochina Capital, said the city should train financial experts to international standards, help improve English skills of financial mangers and offer salaries based on qualifications.
Improving staff quality and strengthening legal frameworks are two key factors to building a sustainable financial market, he pointed out.
For a suitable legal framework for its financial market, Mr. Hai said the city needs to have support from the central government and consider the government's feedback.
The city needs to begin with selecting a suitable market segment, enhancing financial service quality and setting up a service culture centered on customers.
Supervising a financial market should be based on risk management for the entire market, not individual banks or financial institutions, he advised.
Prof. Dr Tran Ngoc Tho, head of the business finance faculty of the HCM City University of Economics, agreed and suggested the city invest more in financial infrastructure to make it attractive to investors.