Many projects providing preferential lending rates for small- and medium-size enterprises (SMEs) have been set up in an effort to financially support their businesses in dull times. However, the number of firms having approached the projects remains limited.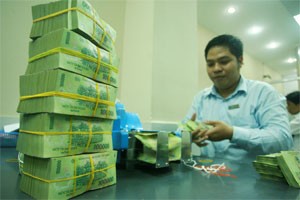 SMEs hesitate to participate in perferential credit programs as they struggle to make feasible investment projects (Photo:Minh Tri)
The government's Decree No.56/2009/ND-CP states that SMEs will be provided with financial supports, technological improvement and human resource training.
The Prime Minister has also instructed the Vietnam Development Bank to provide a guarantee against loans from local commercial banks for SMEs.
Tran Buu Long, deputy director of the Ho Chi Minh City Credit Guarantee Fund, said the HCMC People's Committee released economic stimulus programs in 2009 to support businesses, which were located in the city.
Under the programs, either projects on purchases of equipments and technologies made by hospitals, schools and sport centers or ones on biological technologies for production and electrical appliance manufacture would be offered loans with preferential interest rates.
There are also many other funds in HCMC including technology and science development funds and environmental protection funds. However, statistics show the number of corporations participating in the funds remains limited.
A director of a HCMC-based company, who asked not to be named, told Dau Tu Tai Chinh Newspaper that many businesses complaint that they struggled to approach those funds, which released too many requirements.
Nguyen Tan Binh, vice head of the Leadership and Management Science Research Institution, says all preferential credit programs made to businesses require projects submitted for the funds' support must be feasible.
However, many companies do not know how a feasible project is, Binh said.
Among a few businesses meeting up requirements of the HCMC Credit Guarantee Fund are computer firm Nguyen Kim, Loc Tai, Minh Lam and computer repairing station iCare.
"SMEs grappled to approach credit support funds as they cannot make explicit accounting reports. They believe that they have to keep their business plans in secret," said Diep Dung, general director of the HCMC Financial Investment State-Owned Corporation.
"However, to achieve preferential credits, businesses have to submit reports showing the feasibility of their investment projects."
Financial experts said small companies in Vietnam struggling with limited capital are facing difficulties in securing loans from banks due to the tight monetary policies implemented by the government.
The state bank has ordered all lenders to limit credit to non-production businesses at 22 percent of total loans by June 30, and at 16 percent by the end of the year.