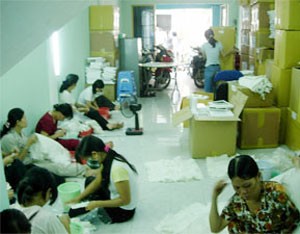 Embroiderer work at a textile firm in HCMC's Binh Thanh District. Finance leasing can help small businesses like this one to grow. (Photo: Hoang Uy)
Finance leasing has been around for more than 10 years in Viet Nam. Its prime beneficiaries are smaller businesses as they can lease expensive but vital equipment that they could never afford to buy. In the lead-up to Viet Nam's becoming a member of the World Trade Organization, finance leasing was predicted to boom, and boom it will.
Increasing Growth Rate of Financial Leasing
By conveying ownership of goods, finance leasing companies help small to medium businesses improve their business and their bottom line.
There are now 11 finance leasing companies in the country: seven bank-backed firms, one joint venture and three foreign-invested outfits.
In 2005, their total leasing value climbed by 30 percent year-on-year. Better still, this year they are looking at a 30-40 percent better performance.
Sensing a booming market for financial leasing, several banks have set up subsidiaries to profit from the greater demand for medium and long-term leasing loans.
Sacombank Leasing Company of the Saigon Commercial Bank (Sacombank) has made good use of the available banking system and infrastructure to develop its business.
In only two months since starting up, it has lent Vietnamese firms more than 85 percent of the US$2.62 million sought to obtain machinery and other equipment.
Now, says CEO Do Thu Ngan, Sacombank Leasing is teaming up with equipment, machinery and instrument suppliers to create a variety of leasing lines.
For the present, finance companies are concentrating mostly on exporters of handicrafts, footwear, textiles and fish and on local manufacturers of packaging, medicines, food and transportation.
Post-WTO Challenges
Financial leasing in Viet Nam is still a fledging business, so the relevant laws are incomplete. Most notable is the lack of regulations on resolving contract disputes and reclaiming leased property.
The State Bank of Viet Nam says a plan to open up finance leasing is in the pipeline. Experts predict a freer market will prompt dozens of foreign firms to join in.
Added to this is the certainty that big industrial firms will establish their own finance subsidiaries, so there's no doubt that finance leasing in Viet Nam will be booming in the foreseeable future.