Financial experts warn many investors are making risky investments as they are trying to make profit from lending brokerages, which are hardly to have money management policies as safe as banks.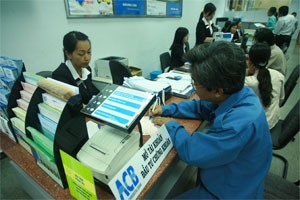 An investor opens securities trading acount at the Asia Commercial Bank. Some brokerages offer investment cooperation deals, which risk investors' money (Photo:Minh Tri)
As the return rate of brokerage services was getting low during the bearish stock market, some securities firms are trying to make profits from borrowing money from investors with high interest rates.
Thang Long Securities JSC early this year released a financial service named "securities investment cooperation" offering an interest rate of 17.5 percent per annum to every investment worth VND5 billion (US$250,000) or more.
The Hanoi-based brokerage also announced a similar service with the interest rate up to 18 percent per year in last November, but cutting to 16.5 percent one month later.
Agribank Securities JSC indirectly offered their clients a service named "capital investment cooperation". According to the deal, investors will ask the brokerage to buy bonds after paying deposits.
They will achieve compensation from the securities firm for "failing to buy bonds", which can be up to 16 percent [of the deposits] per annum.
High risk of losses
Pham Linh, general director of the Vietnam International Securities JSC, said share brokerages can offer clients investment cooperation deals in accordance with the civil law.
However, he noticed that investors carried high risk of losses from the deals as securities companies could not lend money from the interbank market to ensure their liquidity.
Lawyer Tran Minh Hai of the Banking-Securities-Investment Law Co. Ltd. said depositing money into brokerages' accounts is not safe as investors will not be offered deposit insurances.
Moreover, investment cooperation deals between brokerages and investors have to be less than 150 percent of the key rate in accordance with the State Bank of Vietnam's regulation, Hai said.
Therefore, investors will unlikely to gain the interest if securities firms refuse to pay, he added.
The central bank has imposed a 14 percent ceiling on dong deposit rates since December 15 last year.
"Securities companies will use money from investment cooperation deals for either lending other investors or investing in asset classes," said Le Dat Chi, head of the Financial Investment Faculty of the University of Economics HCMC.
"If their borrowers cannot repay, they will sell the borrowers' securities investment portfolio to cut loss. But I think they struggle to do that as the market's liquidity remains very low now.
Otherwise, if they opt for investing by themselves, the risk will be pretty high."
Tri also warned that securities firms mobilizing money from investors are working as commercial banks without the state bank's supervisory, risking both investors and the financial system.
"To curb the issue, authorities should forbid brokerages from providing loans to investors and asking investors to making securities purchases via banks," he suggested.