Bank of India- BOI, the first state-owned commercial bank of India in Vietnam, was put into operation at Saigon Trade Center, No. 37 Ton Duc Thang Street, Ben Nghe Ward, district 1 on July 22.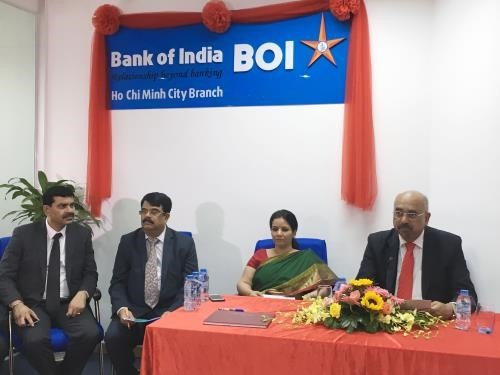 BOI Managing Director Melwyn Rego at the opening of the bank's HCM City branch on July 22 (Photo: VNA)
BOI has opened its representative office in Ho Chi Minh City since 2003; and this is the 61st overseas branch of BOI.
After signing a Memorandum of Understanding (MOU) with the Reserve Bank of India in 2012, State Bank of Vietnam licensed No.10/GP-NHNN on July 31, 2015 to BOI to establish its branch in Ho Chi Minh City.
BOI was established in 1906, and has been one of the fourth biggest banks in the country with total global invested capital up to US$ 133 billion. With its 5, 016 extensive branches and 7, 807 automated teller machines (ATM) across India, BOI network currently covers 22 countries with 60 branches and headquarters in five continents. Of these, five subsidiaries, four representative offices and one joint venture company are located in the big financial hubs and the world's banks such as Tokyo, Singapore, Hong Kong (China), London, Jersey, Paris and New York.
The establishement of BOI contributes to respond trade and transaction demand for two countries' importers and exporters.
India current is one of Vietnam's top 10 biggest trading partners while Vietnam ranks 24th in India. The bilateral relations between two countries have increased continuously in recent years. The bilateral trade reached US$ 9billion in 2014-2015, passed the trade target of US$ 7billion in 2015.
Currently, over 100 projects of Indian enterprises have been investing in Vietnam with total investment capital of US$ 1.1 billion. Two countries have set a target of US$ 15billion in bilateral trade by 2020.