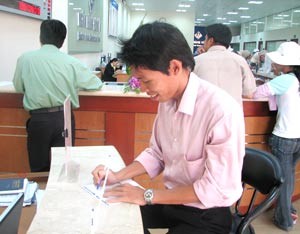 A client is registering to ATM service of the EAB (Photo: T.C.)
The Singapore-based United Overseas Bank (UOB) in Ho Chi Minh City has officially registered for joining in the Viet Nam Bank Card (VNBC), established by the Eastern Asia Commercial Bank (EAB).
This is the first foreign bank in Viet Nam registering for the VNBC.
The UOB is a leading bank in Asia Pacific region with 69 branches in Singapore and more than 430 offices in Australia, Malaysia, Thailand, France, Japan, England and the USA.
The VNBC currently has five official members. From now on, UOB clients can make transaction at 300 ATM and at more than 1,000 places of the VNBC nationwide.
In addition, those who use OMNI-PASS of the VNBC system can also make transactions with the UOB's ATM in the country.