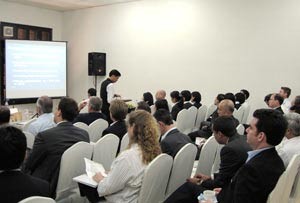 Viet Nam's stock market attracts more and more foreign capital funds.
After a visit of 25 U.S. companies to Viet Nam last week, a U.S. investment fund, the first of its kind, will be established in Viet Nam, James Kim, co-founder of Lexington Langha LLC, Viet Nam's premier investment consultant, told a Vietnam Economic Times reporter.
How will the investment capital be set up in Viet Nam?
Mr. James Kim:

The fund will be set up with the cooperation of Lexington Langha, the Vikoa Investment Consultant and Development JVC and Heartland Funds, all of which are well known in the U.S.

While preparing to launch the fund, we worked with many renowned U.S. investors, many of whom are very interested in investing in Viet Nam. They didn't know how to get projects rolling, however, or where to direct their money.

Initial capital for the fund will be between US$50 and 100 million, with more being added as projects get underway. The money will be spent mainly on securities, real estate and capital markets in Viet Nam.

For the time being, we will develop a central core of capital. If many investment sources emerge in the future, the fund will be divided into separate accounts for each major project.

You have been known to have met with leaders of some foreign capital firms in Viet Nam. What have you learned from their operations in Viet Nam?

When we met with leaders of Vina Capital, Indochina Capital and Mekong Capital, we realized that they were doing very well for themselves in Viet Nam. We are therefore optimistic that our capital will succeed here as well.

There is a difference between their situation and ours, though, because they represent a joint venture of Asian and European firms whereas we are strictly American. Their fund has brought investors from Europe and Asia into Viet Nam but ours will focus on drawing capital from U.S. investors.

When will the fund be up and running?

Once we make a decision, we will move quickly. We have heard that many organizations are preparing to list on the bourse later this year and early next year, so we don't want to miss the boat.

Ha Noi is currently carrying out some US$40 billion worth of construction projects, creating new urban areas on the northern side of the Hong River (Red River). Are you interested in such projects?

Yes, we are, particularly real estate projects around Hoan Kiem Lake. Another sector we are also very interested in is the construction of industrial parks in the outlying areas of Ha Noi.

Although the fund might be based in Ha Noi, however, there are more investment opportunities in Ho Chi Minh City as well.