The Foreign Exchange Ordinance generates the full legal framework for forex transactions. It will boost economic development, facilitate national monetary policies, improve the convertibility of Vietnamese currency, speed up the international economic integration process and enhance the State management of foreign exchange activities, according to the National Assembly Standing Committee.

The Foreign Exchange Ordinance, which consists of 10 chapters and 46 articles, was passed by the National Assembly Standing Committee in Ha Noi on December 13, 2005. The State Ordinance is liberalizing certain payments and remittances in foreign currency and reaffirming Viet Nam's commitments in international integration. It will take effect in mid-2006.
Individuals are allowed to an access to money from foreign sources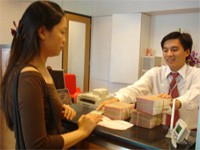 A foreign exchange transaction conducted at HSBC Bank.
(Photo: Yen Chuong)
This might be the panacea to a tricky situation existing at the moment under which foreigners invest in Viet Nam using Vietnamese as their surrogates. Numerous disputes have arisen from this awkward arrangement because the foreign investors have no way of proving their ownership. Now all they have to do is to sign a loan contract with their surrogate businessmen.
Currently, a large number of Vietnamese living abroad want to invest directly in Viet Nam, but if the law dictates they cannot, they want to lend money to their relatives to do business in the country, according to state bank experts.
Article 8 of the new ordinance provides that any individual living in Viet Nam who receives a remittance of foreign currency is allowed to keep, carry or deposit the funds or exchange them through legal credit institutions. If they are Vietnamese residents, the foreign currency can be deposited in a legal credit organization and need not be exchanged into dong.
Foreign currency trade is easier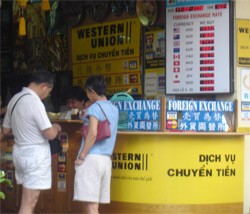 Foreigners exchange money at a Western Union's branch on Mac Thi Buoi Street. (Photo: Yen Chuong)
According to Governor Le Duc Thuy of the State Bank of Viet Nam (SBV), the Ordinance pursues the principle of "a flexible forex policy, reflecting the demand-supply basis of the market, which is put under the control of the SBV through direct and indirect intervention measures". The document allows non-bank credit institutions and individuals to join the forex inter-bank market, removing the mechanism on granting licenses to various kinds of forex businesses.

Banks are now allowed to trade foreign currency but in fact, they still have to seek licenses on a case-by-case basis. Now, the Ordinance removes this requirement.

Article 6 of the ordinance stipulates the liberalization of current transactions, which means permanent and non-permanent residents are free to conduct current transactions such as money transfer in accordance with international practice and principles of the International Monetary Fund.

Distinctions are no longer turn on an individual's nationality but on the duration of the person's stay in Viet Nam and the main source of the person's income during that time, the chairman of the National Assembly Committee for Economic and Budgetary Affairs, Nguyen Duc Kien explained

Individuals can carry foreign currencies
Under the new Ordinance, people will no longer need to seek licenses from the State Bank to send money abroad for study or medical treatment.
(Photo: Yen Chuong)
Under the new ordinance, any individual carrying less than US$7,000 in foreign currency when entering the country do not have to declare the amount to customs officials. The SBV will raise the maximum amount of money from USD 7,000 to USD 10,000, which is allowed to be taken in or out of the country.

Vietnamese citizens are no longer need to seek licenses from the SBV to buy, remit, and carry foreign currency abroad to cover the costs of study, medical treatments or travel expenses. All they need to do is submit to commercial banks letters from a foreign source asking them to pay the fees.

Foreigners are also allowed to buy, send, and carry foreign currencies abroad for legal payment, without having to provide proof of tax payments in Viet Nam.

Besides, foreigners are allowed to buy foreign currencies at banks to remit abroad, but are required to get the nod from the SBV.

Dollarization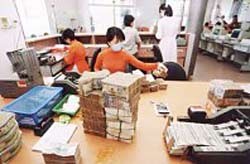 Goverment encourages trading only in Vietnamese dong in Viet Nam.
Mr. Thuy said, "Viet Nam is said to have an average-level state of dollarisation and the SBV is trying to overcome this situation."

He stressed that drastic measures are being taken to limit the free uses of foreign currencies in Viet Nam, in a gradual march towards the total abolishment of dollarization.

NA Chairman Nguyen Van An praised the important role the financial sector plays in national socio-economic development. He said he hopes that the sector will soon realize the goal of circulating only Vietnamese currency in the national territory to elevate the position of the currency. He said, "We want to see more transactions made in Vietnamese dong."

Ordinance's impacts

Some banking experts, however, have expressed concerns that the ordinance may pave the way for property speculation on real estate or securities and possible money laundering, or rising foreign investment into restricted economic areas in the country. Individuals can also transfer money abroad after seeking a simple permit from commercial banks instead of applying at the Sate Bank like now. A few bankers warned that when this regulation is enforced, care should be taken of to avoid those activities.

But others say it is essential to accommodate the huge number of expatriate Vietnamese in sending money back home to their relatives to do business.

"The country would attract several hundreds of million of US dollars each year in the form of foreign investment if we allow individuals to borrow money from foreign sources," says an expert.
Source: SGGP, VN net, Economic News, SBV's document.
Related Links: