Two out of the five State-run commercial banks in Viet Nam are going public and the other three will carry out this soon – it is a vital step to help the nation compete against growing international competition.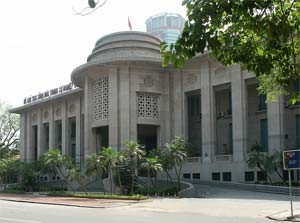 The Vietcombank headquarters in Ha Noi
The Mekong Housing Bank (MHB) and the Bank for Foreign Trade (Vietcombank) are carrying out the equitization process. Meanwhile, the Bank for Investment and Development of Viet Nam (BIDV), Bank of Industry and Commerce (Incombank) and Bank for Agriculture and Rural Development of Viet Nam (Agribank) are preparing for the process.

This fresh move is part of the banking sector's preparations for Viet Nam entering the World Trade Organization, which is expected in this November, as the sector is set to face stiff foreign competition.
The Government expects all the five banks to complete the process by 2008.
Vietcombank plans its IPO late in the second quarter next year. Its strategy is to become a financial group operating in such various areas as insurance, investment funds management, and real estate investments.
Meanwhile, MHB with its annual growth of 60-70% is leading the Vietnamese market in terms of safety, according to international auditing results. It ranks sixth in terms of total assets in banking sector.
Incombank is conducting a shakeup. BIDV will submit its equitization plan to the Government in the first quarter next year, and make the IPO in the fourth quarter.