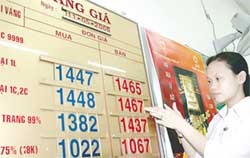 Gold price is being adjusted to VND14.4 million a tael. 
After two days of successive and strong decrease, the domestic gold price on May 17 grew rally to VND14.4 million a tael, up VND700,000 over Tuesday.
The domestic gold price was adjusted 4-5 times just in one day of May 17, climbing from VND13.7 million a tael early the day to close at VND14.4 million, an increase of VND700,000 a tael over Tuesday.
On the same day, the AAA gold on sale by the Phu Nhuan Jewelry Joint Stock Company reached VND14.2 million a tael.
Despite the increasing gold price, the purchasing power for the precious metal in the domestic market stayed at a normal level when the volumes of gold purchase and gold sale were almost equal.
In the New York market, gold price for delivery in June increased by US$7.9 to stop at US$692.9 an ounce. However, gold price in Hong Kong on May 18 closed at US$687.7 an ounce, after fluctuating between US$699.5 and US$716 an ounce over the last two days.
Global crude oil price also exceeded US$70 a barrel.
According to many analysts, strong increases of global gold and crude oil prices on May 17 were caused by worries about a possible decrease of the world's supply due to geopolitical tensions in Iran and Nigeria.