Gold of the Saigon Jewelry Company (SJC) was priced at VND11.4 million a tael on June 19, a decrease of VND200,000 over two previous days. Also, the global gold price was reduced by US$9 an ounce to stop at US$572.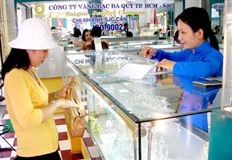 Despite gold price reduction, the domestic market is witnessing a slump in gold sales. (Photo:TK)
Remarkable reduction of the gold price has resulted in a slump in the domestic market's gold sales. Some gold enterprises reported that their sale volume was down by as much as 50% during these days.
However, a recent public opinion poll conducted by the Sai Gon Giai Phong Newspaper revealed that gold price fluctuations don't have direct impact people's lives as in the past.
The majority of Vietnamese people now understand that gold prices do not have a direct effect on prices of other products and services, as retailers no longer refer to gold prices to set their pricing.
According to Mrs. Nguyen Thi Tranh, Deputy Director General of the Sai Gon Co-op, prices on all products at Sai Gon Co-op Mart have remained stable since early 2006, despite strong fluctuations in gold price. Food prices recorded when the gold price reached VND15 million a tael were the same as prices when gold dropped to VND10.5 million a tael.
Ms Tranh said that wholesalers at the market are medium-income earners who have no need to store gold. She said that gold price fluctuations would no longer affect pricing of consumer goods.
Mr. Nguyen Chi Trung, Deputy Head of the Tran Chanh Chieu wholesale market management board said just a decade ago, goods and services prices would lift as soon as gold prices increased.
However, director of a telecommunications company complained that the import prices of non-ferrous metals like copper, zinc, or aluminum have skyrocketed following the gold price increase. When the gold price reached VND15 million (US$937.5) a tael, the price of imported copper for telecommunications and electrical cables increased 50%. Copper prices have been decreasing as the gold price fell.
Currently, experts believed that the domestic gold price only brings influences on gold speculators and some real estate transactions which basically depend on gold price.