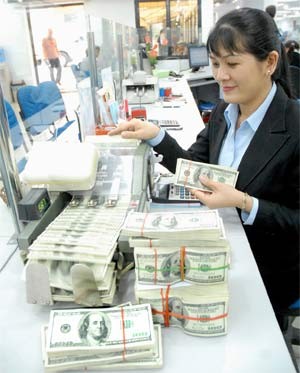 U.S dollars at the Vietnam Export Import Commercial Joint-Stock Bank (Eximbank)
Gold edged down in Ho Chi Minh City Thursday to close at VND18.10 million per tael (37.5 grams) while the US dollar rose sharply from VND16,069 to close at VND16,800.
On the ACB Gold Trading Floor, the price was fixed at VND18.174 million as the trading volume reached 466,650 taels, or 50 percent higher than normal. But the volume still represented a fall from Wednesday when it had been 100,000 taels higher.

At commercial banks the greenback traded at VND16,283.

Dollar trading has become so rampant on the open market that some brokers in District 1 are offering home delivery for people buying upward of US$2,000.

The dollar also rose a little on the global market, with the euro closing at 1.5638 per dollar.