The names of ten commercial banks capable of providing ATM salary services were announced by the State Bank of Viet Nam on Wednesday.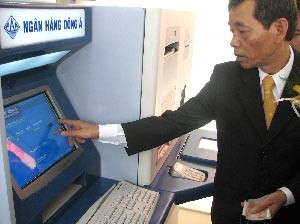 EAB Bank is one of the banks capable of providng ATM salary services (Photo: Truong Son)
The list was essentially that of the ten state banks with the most ATMs installed nationwide.  
Vietcombank had 890 ATM machines installed. Bank of Investment and Development of Viet Nam (BIDV) had 682. Viet Nam Bank for Agriculture and Rural Environment (Agribank) had 621 machines at the time of the survey and the East Asia Bank (EAB) had 595 machines.  
The fifth position belonged to the Vietnam Industrial and Commercial Bank (Incombank) with 492.  
The banks with the next most ATMs were Saigon Thuong Tin Bank (Sacombank), the Viet Nam Technological and Commercial Join-stock Bank (Techcombank), the Vietnam Joint Stock Commercial Bank for Private Enterprises (VPBank), Asia Commercial Bank (ACB) and the Military Bank (MB). 
The State Bank issued the list to all the ministries, government offices, and the Ho Chi Minh City and Ha Noi People's Committees for their payroll processing purposes. 
It was also reported that 32 banks were providing ATM cards last year, that some 8.3 million cards have been issued and last year saw 4,300 new ATMs installed along with 23,000 new points of sale (POSs) allowing ATM and other cards payments. 
Related article:
Public Service Salaries by ATM Seen as Imperfect Vision