The Party and Government have determined small and medium enterprises (SMEs) as a driving force to boost economic development, modernization and industrialization. However it has been difficult for them to access bank loans so banks should find solutions to assist them.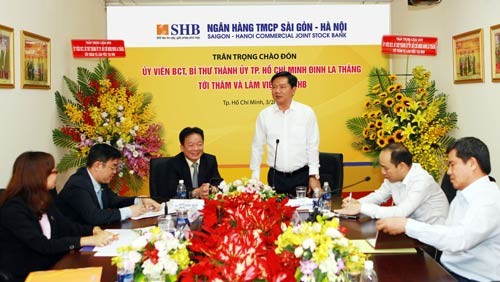 Secretary Dinh La Thang works with SHB in HCMC on March 17 (Photo: SGGP)
The statement was made by Secretary of the Ho Chi Minh City Party Committee Dinh La Thang while working with Saigon-Hanoi Commercial Joint Stock Bank (SHB) in Ho Chi Minh City yesterday.
Vietnam has 500,000 businesses including 260,000 in HCMC, most of them are SMEs, Mr. Thang added.
SHB chairman Do Quang Hien attributed difficulties in loan access to SMEs' lack of mortgages and weak management ability.
SHB has signed agreements with Vietnam Enterprises Association and businesses associations in Hanoi and other provinces and cities to solve these problems by loaning businesses with no collaterals but feasible trading projects.
It has also consulted for businesses to establish, develop and implement their projects as well as manage money currents, which helped increase the bank's loaning ratio to SMEs last year by 30 percent over 2014.
Another matter which Secretary Dinh La Thang referred to during the meeting was that students of Ton Duc Thang University's inventions have been patented by the U.S. Department of Commerce but they have lacked capital to commercialize these products.
The inventions include smart hospital cots and patient lifting equipments.
Chairman Do Quang Hien affirmed that the bank will work with manufacturers to bridge these students to producers and market their products as per Mr. Thang's order.
Secretary Dinh La Thang also proposed the bank to join hands with the city to implement seven breakthrough programs, focus on boosting production and trading and high added value services and contribute in developing the city into a specially civilized, modern and humane urban area with good living quality.
He also suggested SHB to help create a business startup wave among citizens, in which it should give priority to students who have good ideas.
The bank should bring faith and aspiration for residents and businesses to enrich instead of depositing their savings to take interest or investing in gold and US dollar when interest rate reduces, he stressed.
He put an idea in which SHB can build a venture capital fund for the youth to start up their businesses and the fund should be equitized.
Reporting SHB performance last year, the bank's director general Nguyen Van Le said that its revenue topped VND12 trillion (US$263 millio) in which services yielded 15 percent.
Mr. Thang said the ratio of service revenue too low and urged the bank to raise it up.
SHB is listed among top five commercial joint stock banks in Vietnam.