To make it easier for businesses to get loans, banks should simplify procedures and appraise applications within seven days, HCM City People's Committee deputy chairman Nguyen Trung Tin has said.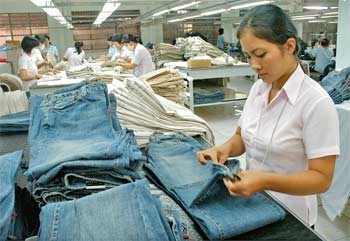 Workers at An Hoi Garment Enterprise in Go Vap District, HCMC. City authorities are asking banks to make it easier for businesses to get loans under the Government's subsidy program. (Photo: SGGP)
He was speaking at a meeting with official agencies and the HCM City Business Association on April 14 to discuss problems facing businesses seeking to borrow under the government's interest subsidy program.
"Financially strong businesses [that have not borrowed so far] can get loans under the policy. But businesses that had to get loans at high interest rates last year now have to continue paying and cannot [benefit from the program]," a representative of the HCM City Arts Wood and Wood Processors Association said.
"The Government gives incentives to those who get new loans instead of helping those who borrowed earlier at higher rates," the representative complained.
The chairwoman of the HCM City Mechanical Electricity Association, La Thi Lan, said: "When interest rates increase, banks ask businesses to pay up. But when the prime rate goes down, banks have done nothing to reduce the interest. This is not fair."
Ngoc Lan Electrical Wire and Cable Private Enterprise general director Ha Thanh Tam said: "When the prime rate goes down and we ask banks to cut the interest rates on our loans, they say we have to pay off our existing debt and apply for new loans to enjoy the new rate."
"The government subsidizes medium- and long-term loans but some banks do not offer these loans, so we enjoy no support," he complained.
"Moreover, the loan procedures are so complicated that we cannot get [one]. We feel discouraged."
Responding to the complaints, Ho Huu Hanh, director of the city branch of the State Bank of Vietnam, said many banks lack funds.
"They mobilized VND565 trillion (US$31.9 billion) and have lent over VND500 trillion to business. The government expanded the list of beneficiaries for the incentive program but has not provided more funds," he said.
"They are only able to mobilize short-term deposits and cannot lend long-term," he explained.
As for reducing interest rates on existing loans when the prime rate go down, he said banks sign loan agreements with borrowers and continue to implement them.
VND40 tri spent on subsidy

Nguyen Van Lai, director of the Department of Industry and Trade, said HCM City, under its own interest program, has provided VND40 trillion in subsidy. A further VND30 trillion would be provided in May, he said.
Mr Tin said by the end of this quarter, the city would make a pilot study of 100-200 businesses to find out if the loans are being used efficiently.
He also asked the central bank to suggest measures to overcome the impediments to lending to businesses.