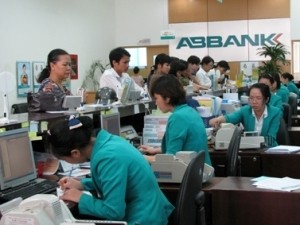 File photo shows an An Binh Bank transaction office
The International Finance Corporation, or IFC, has invested US$40.5 million in long-term capital in Vietnam's An Binh Bank, the World Bank member announced Monday.
The investment into An Binh, one of Vietnam's 15 largest joint stock banks by assets, will help strengthen the country's banking sector and improve access to finance for small and midsize enterprises, the IFC statement said.
An Binh Bank's trading name is ABBank.
The investment package includes the purchase of a convertible bond worth 480 billion Vietnamese dong and a straight bond worth 312 billion Vietnamese dong, the announcement added.
"IFC's investment in the current unfavorable market conditions provides much needed long-term capital for An Binh Bank to pursue its portfolio growth and implement its capital increase plan in 2013," An Binh Bank's Chairman Vu Van Tien, said in the statement.
He added, "The investment reinforces the capital position of An Binh Bank and supports the bank's efforts to strengthen its products and services with a focus on lending to small and midsize enterprises."
Along with this investment, IFC will be advising An Binh Bank on issues such as corporate governance and energy-efficiency financing. Core to the advisory services agreement, signed in June 2010, is help in designing and implementing a strategy to develop An Binh Bank into a specialized bank servicing small and midsize enterprises, which remain an underserved segment of the Vietnamese economy.
An Binh Bank is also participating in IFC's Global Trade Finance Program to help extend trade finance to Vietnam's importers and exporters.
"This investment demonstrates our commitment to the development of Vietnam's banking sector," said Karin Finkelston, IFC's Director for East Asia and the Pacific. "IFC's financing and advisory package will help An Binh Bank build its position as an important lender to small and midsize enterprises and other underserved market participants, thereby generating jobs and growth in the country."
An Binh Bank is currently 20% owned by Malaysia's Maybank. The Malaysian institution became a foreign strategic investor in An Binh with a 15 percent stake in 2008 and then increased its ownership to 20 percent in December 2009.

In December 2010, Maybank purchased a 120 billion Vietnamese dong convertible bond and a straight bond worth 78 billion Vietnamese dong to maintain its 20 percent stake in An Binh.