Interest rate hike cooled off, experts say
Financial experts said the interbank rate hike had been cooled off as commercial banks' liquidity had been improved, but some small banks with low liquidity still tried to offer interest rates, which are higher than the state bank's cap.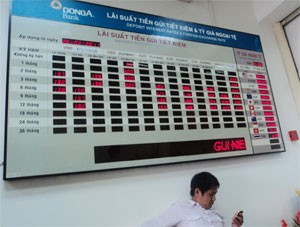 An electric board at HCMC-based DongA Bank show interest and foreign exchange rates (Photo:Minh Tri)
The central bank's instruction to reduce the US dollar deposit rate helped encourage people to deposit the dong and curb speculation on the greenback.
The State Bank of Vietnam capped foreign-currency deposit rates at 3 percent for individuals and at 1 percent for non- credit institutions last month. It also raised the amount of dollar deposits lenders must set aside as cash by 2 percentage points.
Some small banks have been collecting as much as US$15 million every day from customers wanting the dong, the government said on its website on April 27.
Vietnam's foreign-exchange reserves declined to cover about 1.4 months of imports by the end of December from 1.8 months three months earlier, the International Monetary Fund said in a report on April 28.
However, the interest rate on dong deposits remains high as lenders still required large amount of deposits, said Do Lam Dien, deputy general director of Hanoi-based MaritimeBank.
"The interbank rate is used for improving liquidity, not for banks' business. Therefore, although the rate declined, lenders which have customers agreeing to borrow at high lending rates of 25-26 percent per annum are still willing to offer deposit rates that are higher than the central bank's cap," Dien said.
He also added small-cap lenders, which have low liquidity as they often increase their total asset, were also eager to break the state bank's restriction.
An official of a small joint stock bank said commercial banks struggled to attract depositors with the saving rate of 14 percent per annum, thus they had no choice but to offer rates that higher then the central bank's cap.
The number of deposits has decreased since early this year as people incurred heavy losses from other investment classes, including property, stock and gold, he told Dau Tu Tai Chinh Newspaper.
Experts said large commercial banks hardly dodge the central bank's instruction to offer high deposit rates as they have to submit detailed policies on interest rates, which are applied for hundreds of their branches nationwide.
Trinh Van Tuan, general director of Orient Commercial Joint Stock Bank, said the outstanding deposit in the first five months of the year slightly increased by 1.5 percent compared to the year-on-year average of 35 percent per year.
"The slowdown is the side effect of the government's tight monetary policy to battle accelerating inflation. I hope the consumer price index (CPI) will decline next months, which will help cool off the interest rate hike," Tuan said.
A financial expert, who asked not to be named, said the interest rate has stabilized, but some small commercial banks with low liquidity still tried to break the stability by offering interest rates, which are higher than the central bank's cap.
It is now the time for the state bank to recognize the financial strength of each lender, he noticed.