Nguyen Van Binh, governor of State Bank of Vietnam, said in Hanoi on Friday that the present loan interest rate of 15 percent a year will remain unchanged for at least a period of one year, but the bank will continue to seek measures to further lower this rate.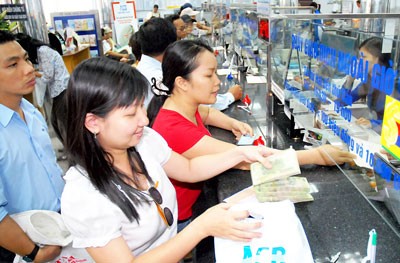 Customers depositing cash at the ACB bank in HCMC (Photo: SGGP)
Mr. Binh was speaking at a meeting with businesses to discuss ways to boost production and trade in the second half of the year.
Nguyen Thi Mai Suong, director of the State Bank in Hanoi, said that so far credit institutions in Hanoi have applied 15 percent interest rate on 30-50 percent of old loans.
Tran Anh Vuong, chairman of Bac Viet Steel Company and deputy chairman of the Hanoi Young Entrepreneurs Association, said that nearly 650 members of the association have not received any announcement from banks to lower the interest rate.
He asked if commercial banks are forced to follow the State Bank directive to reduce the interest rate.
In response, Mr. Binh said that there are no regulations on ceiling of loan interest rate. As a result, 15 percent interest rate is just a proposal from the State Bank to commercial banks.
Commercial banks are not forced by any law to reduce the rate to 15 percent or less. However they have pledged to try to cut the rate as proposed by the State Bank.
He said that banks will share difficulties with enterprises, during these tough times. Banks are finding measures to solve difficulties for businesses but not at any cost and not for all businesses.
The companies showing no sign of growth or development in the long-term will not get bank assistance, he said.
Nguyen Thu Ha, director of Le Xim Company, wondered how long the 15 percent interest rate will hold.
"If the inflation rate remains unchanged at 7-8 percent a year, the 15 percent interest rate will be maintained for at least one year or maybe more," Mr. Binh affirmed.
Ha raised another matter, saying that although her company could present feasible trading projections with sufficient mortgages, they still find it difficult to get loans from VietinBank in Hanoi. The company has completed necessary procedures for one and a half months, but the bank has yet to disburse payment.
"My company has effectively operated and has never been late in paying bank loans or interest for the last 11 years, but we still face difficulties. How can businesses that are in real difficulty access credit," she said.
Mr. Binh instructed VietinBank to immediately consider the matter put forward by Mrs. Ha and respond to her company within two days. 
Le Vinh Son, chairman of Son Ha Company, said that the interest rate should be further reduced to 10 percent a year.
The Governor said that this was what the economy needed but reducing interest rates take a long term plan and depends on various economic changes.